Here are ten of my favorite wordless (or nearly wordless) books.
I have taken photographs of a few pages to give you a taste of what's in store, but they really don't do the illustrations justice. I've linked each book's title to its Amazon page, where you can usually peek inside the book.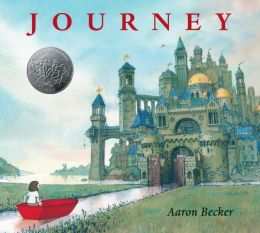 1.
The Journey,
Aaron Becker
Lush illustrations tell the story of a lonely girl who uses a magic red crayon to draw a door into another world where she travels by boat (again, drawn by the crayon) to a fantastic castle filled with canals. Her adventure continues in a hot air balloon where she bravely confronts danger, makes a narrow escape on a flying carpet, and finally finds true friendship. Reminiscent of
Harold and the Purple Crayon
, but richer and deeper, this is a satisfying read for all ages.
2. Home, Jeannie Baker

This is a book you'll want to spend a lot of time with. Collage-style illustrations follow the life of a young girl as she matures to adulthood. Each two-page spread records the view out her window, at two-year intervals, beginning on the day her parents bring her home as a newborn. As we watch her grow up, we also see a story of urban renewal unfold as neighbors work together to transform the neighborhood.









The first scene out the window.




In this detail, we see the neighbors planting a tree in the empty lot across the street.






Here, the tree has matured, and the space has become a pocket of green.




The last window scene. The girl has married the boy next door, and together they will open a native plant nursery.
I recently acquired
Window
, another wordless book by Jeannie Baker in a similar style. This time it's a little boy who grows to adulthood. Instead of seeing an urban neighborhood change for the better, we watch as his rural home gradually succumbs to suburban sprawl. I'm still a fan of Jeannie Baker's, but
Window
was depressing (probably intentionally so).
3. Flotsam, David Wiesner

Almost everything by David Wiesner is fantastic, and this is my favorite of his wordless books. A boy on a beach finds an antique underwater camera that has washed up to shore. He has the film developed, and the photographs reveal eye-popping secrets about life in the ocean. Tiny green people live on the backs of sea turtles in cities made of seashells. Sea creatures lounge in an underwater living room on old sofas and easy chairs. . . Every page of this book delights me.
Notice the electric fish in the lampshades.


4. Anno's Journey, Mitsumasa Anno

This has been a favorite of mine since childhood. A lone traveler makes his way through countryside inspired by the author's travels in Northern Europe. The details in each two-page spread are captivating, and if we look closely, we find visual references to fairy tales, historical figures, and famous paintings. Be sure to check out Anno's other wordless books, including Topsy Turvies, Anno's Counting Book, and his other journey books: Anno's USA, Anno's Britain, Anno's Italy, and Anno's Spain.





Look carefully in the upper right corner.


Anno quotes Georges Seurat's painting, A Sunday Afternoon on the Island of Grande Jatte
.


Notice anything familiar in the upper left corner?
Here's a close-up of Don Quixote charging a windmill.


5. The Arrival, Shaun Tan



If I could recommend only one wordless book, this would be the one. As rewarding for adults as for children, this is a highly imaginative, richly illustrated book. A man leaves his troubled homeland and immigrates to a strange and unfamiliar country, temporarily leaving his family behind. Everything is different here: the homes, the food, the language, the architecture, modes of transportation. He eventually finds a job, makes friends, and acclimates to the local customs. At the end of the book, we see a joyful reunion with his family as they join him in his new home.

Honestly, though, the summary above feels like thin gruel compared to the book itself. Read it.



The oppression in the protagonist's homeland is symbolized by a dragon-like tail.
He must adjust to a way of life that is unlike anything he has experienced before.
Here he is in his bewildering new apartment.
Opening a box from home reminds him of his wife and daughter.
He finds a job in a factory.


6. Rainstorm, Barbara Lehman

A boy is stuck inside on a rainy day with lots of toys in his large house but no one to play with. That changes when he finds a mysterious key and a secret entrance to an underground tunnel that leads him to a sunny island and new friends.

It's difficult for me to decide which of Lehman's wordless books I like best. Trainstop is delightful, and The Red Book won a much-deserved Caldecott Honor. (I haven't yet read The Secret Box or The Museum Trip.) The three that I have read share common themes without being formulaic: Each protagonist is a lonely child who goes on a journey and finds friends. I love stories like that.


All alone.
After much trial and error, our hero finds that the mysterious key unlocks a trunk - with a ladder inside!
At last, he emerges into open air.
This is by no means the end of the story . You'll have to see for yourself how it turns out.
7. The Grey Lady and the Strawberry Snatcher, Molly Bang

A long-limbed blue person follows a woman home from the market and attempts to steal the scrumptious strawberries she just bought. It's amazing how much drama Bang is able to pack into the story. The grey lady's escape from the strawberry snatcher includes, among other things, a tree to be climbed, a daring swing on a vine, and a trek through a swamp.






Uh-oh.




8. Good Night, Gorilla, Peggy Rathmann

This book is not quite wordless (the characters say, "Good night," throughout the book), but the narrative is mainly told through pictures, rather than words. And for toddlers, this almost-wordless book is as good as it gets. A gorilla steals the zookeeper's key, escapes from his cage, and unlocks the cages of the other animals in the zoo. The zookeeper doesn't notice them as they follow him to his home and into his bedroom.


9. Polo: The Runaway Book, Regis Faller

This is a rollicking good time. Faller makes use of comic-book style panels to tell the story of Polo's attempt to chase down an alien who has stolen his book. He makes friends with a princess pig in a castle made of clouds, a penguin who likes to knit, a genie who grants him a wish, and a chicken who drives a pedal-powered hot air balloon. Even when they were toddlers, my boys were absorbed with all 80 pages of this book.

This is one of a whole series of Polo books.




Polo begins the chase.
The penguin and the chicken fall in love at first sight.


10. In the Town, All Year 'Round, Rotraut Susanne Berner

I find this book to be utterly irresistible. It's divided into four sections: winter, spring, summer, fall. Each detailed two-page spread shows a scene from a little town and its surrounding countryside. Then those scenes are revisited in each season of the year.

This is another not-quite-wordless book: The author prefaces each of the four sections by naming some of the characters and giving us clues about what to look for (e.g. "Where is Hannah taking such a large present?"). Some story lines continue throughout the pages of one particular season: In the winter pages, a girl and her father try to catch their escaped parrot. Other stories continue through the whole year. A new school is built. A baby gets bigger. A romance blossoms.
This is the moment that our couple of interest meet. On the next page, she will bandage his hand.
Three other books deserve an honorable mention:
Noah's Ark
, Peter Spier
Peter Spier paints Noah and the animals with a sort of gentle humor that charms me in spite of my
Noah phobia
. This is a Caldecott Medal winner.
Deep in the Forest
, Brinton Turkle
This is a fun twist on the Goldilocks story. This time, it's a little bear that makes its way into a human family's house, sampling their porridge, sitting in their chairs, and trying out their beds.
You Can't Take a Balloon Into the National Gallery
, Jacqueline Preiss Weitzman and Robin Glasser
While a little girl visits the National Gallery of Art with her grandmother, her helium filled balloon escapes, taking us on a tour of downtown D.C.
What books would you add to the list?